James Cukr
's work can be found at
cukr7.myportfolio.com
* * *
Colleen Donnelly
is a professor at the University of Colorado at Denver specializing in medieval and modern literature and health humanities.
* * *
More of
T. Motley
's comics are at
tmotley.com
.
* * *
Jesper Nordqvist
, aka 'Ragathol', is a comic artist and illustrator from Sweden, specialized in fantasy and SF comedy and drama. He's been making a lot more comics since creating Mondo Mecho, most of which are available at
gumroad.com/ragathol
.
* * *
Novyl the Mysterious
can be found on Instagram and Twitter under the username @lyv0n.
* * *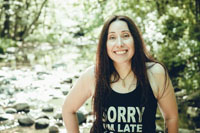 Lenore Sagaskie
is a fantasy and horror writer from Canada living in self-imposed exile in Michigan. The first two books in her fantasy series:
The Four Sworn: Spring Equinox
, and
The Four Sworn: Summer Solstice
, are currently available on Amazon. Her horror/comedy film,
Out of the Grave
, is in post-production indefinitely. Lenore is writing the third book in The Four Sworn series, and her next short film,
Rage
, is currently in pre-production indefinitely. You can find Lenore lurking on Twitter and Instagram as @lenorewrites, and on Facebook as herself.
* * *
Mark Anthony Smith
was born in Hull. His writings have appeared in many small press and Horror Anthologies.
Something Said
is his latest book, which is available on Amazon. A Horror collection is on pre-order too.
Facebook: Mark Anthony Smith - Author
Twitter: MarkAnthonySm16
* * *
Christina Sng
is the Bram Stoker Award-winning author of
A COLLECTION OF NIGHTMARES
(Raw Dog Screaming Press, 2017), Elgin Award runner-up
ASTROPOETRY
(Alban Lake Publishing, 2017), and
A COLLECTION OF DREAMSCAPES
(Raw Dog Screaming Press, 2020).
Her poetry, fiction, and art have appeared in numerous venues worldwide, and her poems have garnered multiple nominations in the Rhysling Awards, the Dwarf Stars, the Elgin Awards, as well as honorable mentions in the Year's Best Fantasy and Horror, and the Best Horror of the Year.
Visit her at
christinasng.com
and connect on social media @christinasng.
* * *
Grace Wagner
is a queer, nonbinary writer living with a disability in Houston where they teach at the University of Houston. They have attended the New York Summer Writers Institute and work as Assistant Poetry Editor for Gulf Coast. Their work has been featured in
Salmagundi Magazine, The Atlanta Review, The Offing
, and is upcoming in
Hayden's Ferry Review
.